The perfect base for your Loch Lomond holiday.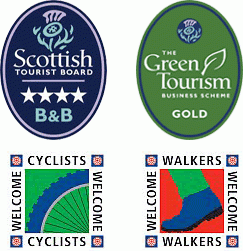 Why not take advantage of our special deal saving you 10% on accommodation for each day you combine Lomond Guides services with a comfortable stay at Balmillig House, our 4 star B & B set in the conservation heart of Helensburgh.
We are conveniently situated on the edge of the National Park and just 30 minutes drive from Glasgow airport. Only 3 superbly appointed rooms available so book early to avoid disappointment! Click here to visit the Balmillig website and call or email us to discuss details. Alternatively, if you prefer self catering accommodation, our small self catering flat might be up your street. Click here for details.