Angie and her friends from Norway at the National Park Visitor Centre at Balmaha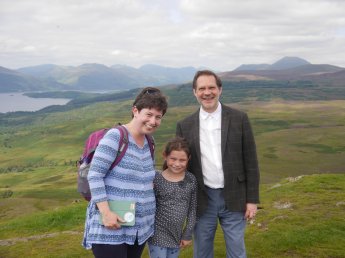 Kati, Humberto and Alma at the top of the Conic at Balmaha.
We had an unforgettable experience with John, who was the most wonderful guide, a never-ending fount of information about the flora, fauna, geology and history of the area.
We came to our day with two not-particularly-fit and non-motorised adults and a 7 year old. By the end of it we had climbed Mount Conic with breath-taking views from the top; had a boat-trip to the island of Inchcailleach on a small boat made in 1938; had taken a tour of the island complete with evidence of illicit whisky-distilling and the remains of a 13th c. nunnery; learned a lot about the plants, trees and mountains we could see around us and had a sneeky look at the lovely village of Luss.
John was engaging, good-humoured and sensitive throughout, we had a fabulous day. Many thanks, Loch Lomond Guides!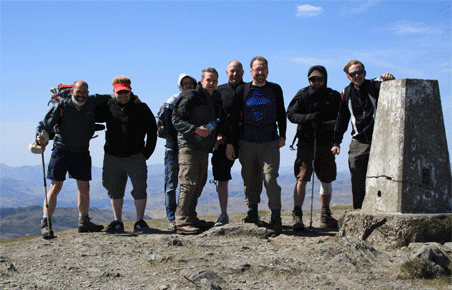 John with Jonathan Taylor's Stag Group on the summit of Ben Ledi near Callander on a very windy and sunny 30th April 2011.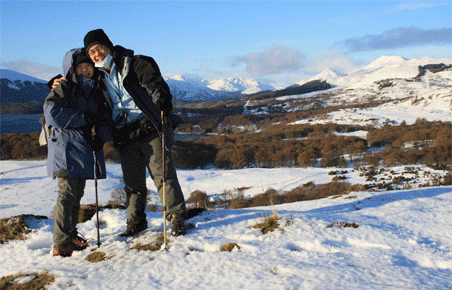 Never having experienced snow before, newly wed Renwick and Maria from Indonesia spent 2 days with Lomond Guides early in December 2010. In the background is Loch Lomond and a very snowy Ben Lomond.
"thx for everything John, Ann. We enjoy our time there and also for the lovely comfy room. It's the best"
Soh Yeong Roh and family returning from a trip out to Inchcaillach on Loch Lomond, 2 August 2010.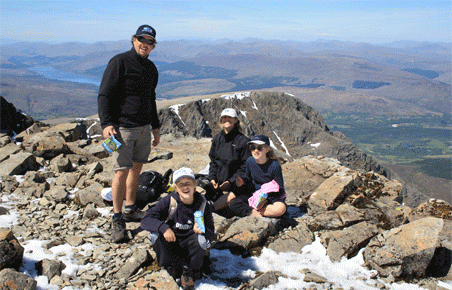 Mark Stewart and family on the summit of Ben Nevis, 31 May 2010. (See also Sir Jackie Stewart item below)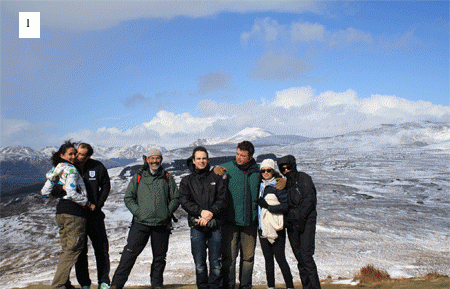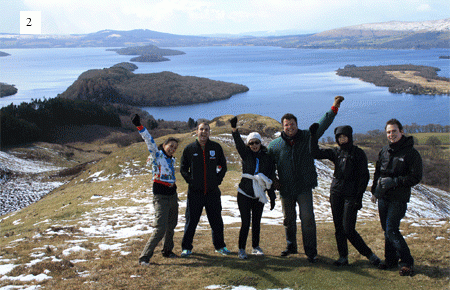 Mark Chalmers and friends from Cairo with John having climbed Conic Hill at Balmaha, by Loch Lomond in Scotland on 1st April 2010.
1. On the summit with John - Ben Lomond in the background
2. Yo! We made it!
After lunch at The Oak Tree Inn, Balmaha, the group went on to tour nearby Glen Goyne Distillery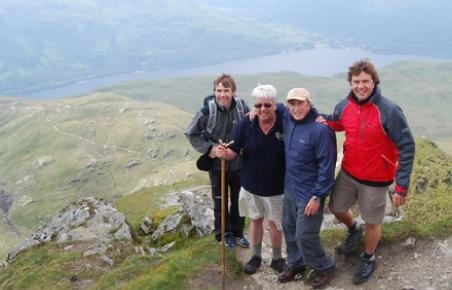 Sir Jackie Stewart, his two sons Paul and Mark and family friend John Lindsay arrive on the summit of Ben Lomond to celebrate Sir Jackie's 70th birthday on June 25, 2009. Sir Jackie had been given a Lomond Guides gift voucher as a birthday present by his old school friend, John.
" I would like to thank you most sincerely for all the help and assistance..
I can't tell you how much I enjoyed it and how much Paul and Mark enjoyed the experience.
Thank you for your care and counsel as well as your company."
Sir Jackie Stewart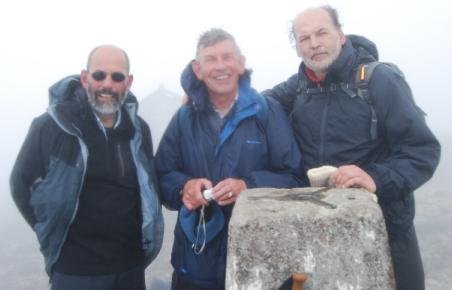 Alan and John Selby with John at the Summit of Ben Nevis, 27 June 2008
"The coca cola was only second best. The very best bit was getting my boots off at the end.... But seriously, John and I are so grateful to you for getting us there. The photos are great. Alan"